Peace Dialogues
Listen Compassionately, Engage Lovingly, and Dialogue Peacefully
Peace Dialogues meets monthly to have conversations together. Several facilitators guide the discussions to explore what it means to listen compassionately and engage in loving, peaceful, productive dialogue even in the midst of disagreement.
Join via Zoom
Meeting ID: 816 9667 1076
What are Peace Dialogues?
Peace Dialogues are an invitation to holy conversation together, grounded in faith, shared in love.
Why do we have Peace Dialogues?
As disciples of Jesus Christ, one of the challenges we all face is learning to live together as a faith community. In our daily lives and world, we are confronted with the reality of complex yet important issues all around us. Disagreements and varied opinions about these issues within our church family are inevitable. We don't always agree about everything, and we don't necessarily have to. The important thing is to engage these issues faithfully and to listen with compassion to one another as siblings in Christ. Peace Dialogues are intended to strengthen the whole body of our church community and our witness to the world around us. They also provide us a healthy opportunity to demonstrate our mission to "Love God, Love People, and Serve the World."
How do Peace Dialogues work?
We will meet monthly via Zoom for one hour. The dates and times of these gatherings and the Zoom link are posted on this website and also shared through our weekly E-Blast. During our time together, our Peace Dialogues team will present relevant topics that confront us in our daily lives. The topics themselves are generated through the input of the group. We will have opportunities for both large and small group dialogue. We do have covenant guidelines we ask all participants to observe during our time together.
Who can participate in Peace Dialogues?
Everyone is invited to join us, and we hope you will be a part of these holy conversations with us!
An important note about dialogue. DIALOGUE….
· does not force anyone to change.
· is not a debate in which we try to convince others that we are right.
· is not about finger-pointing, demonizing, or punishing individuals or groups.
· does not avoid our history and our present differences.
· invites each of us to commit to sharing one's own truth while being willing to listen deeply to another's truth.
· is about arriving at a mutual understanding.
· trusts that we can achieve a greater understanding of the issue and move toward potential reconciliation fostering constructive change in our community.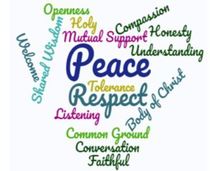 MONTHLY SCHEDULE 2021
***Please note: Peace Dialogues will be taking a Summer break and will resume monthly meetings in the Fall.***
May 16 @ 12:30 PM - Meeting In The Middle
During his acceptance speech of the 2021 Jean Herscholt Humanitarian Award at this year's Academy Awards, Tyler Perry (actor, director, producer, screenwriter) talks about the importance of "refusing hate" and learning to "meet one another in the middle, in our common humanity". For our Peace Dialogue this month we will watch Tyler's acceptance speech and consider what it means to us individually and as the church to refuse hate and meet others "in the middle". Watch the video: Tyler Perry Humanitarian Award Speech
As we consider this question, we will also look to scripture, to the example of Jesus, to see how his ministry teaches us as Christians to refuse hate and to meet others in the middle. Jesus is constantly faced with pressures to follow others' agenda; to draw a line in the sand; and pick a side. Instead, he chooses a third way. In a world that tries to divide things into this or that, Jesus offers us an alternative vision and path to walk together in faith. (Excellent reading by author and theologian Walter Wink titled Jesus' Third Way)
April 18 @ 12:30 PM - The Lenses We See Through - click HERE
March 21 @ 12:30 PM - Race in America - click HERE
Join via Zoom